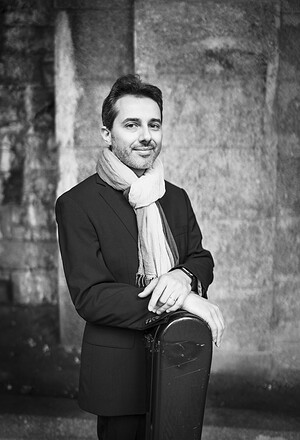 JOÃO KOUYOUMDJIAN is a Brazilian born classical guitarist of mixed Brazilian and Armenian ethnic heritage. He is a graduate of The Juilliard School and the University of São Paulo, where he studied under Sharon Isbin and Edelton Gloeden, respectively. He has also studied with Preto Moreno, Paulo Martelli and William Daghlian.
An award-winning artist in his homeland, Kouyoumdjian has appeared on stages in the United States, Brazil, Europe and Africa, with noted stops at the Kennedy Center, Lincoln Center, and the Metropolitan Museum. He has also performed as a guest soloist with the Armenian Philharmonic Orchestra in Yerevan, Armenia.
João Kouyoumdjian has been featured on numerous nationally televised concert series in Brazil, including the acclaimed Movimento Violão. In 2011, he premiered new works by Brazilian composers Ricardo Calderoni and Raimundo Penaforte at Weill Recital Hall at Carnegie Hall at the behest of the Consulate General of Brazil in New York. This project inspired his debut album Surfboard: Solo Guitar Works from Brazil (Pomegranate Music, 2013). His subsequent album - Kouyoumdjian Plays Bach: New Transcriptions for Guitar (Pomegranate Music, 2015) - was described as a "masterful presentation of premium-grade Bach" by Classical Guitar Magazine (US) and was recommended by Brazil's most popular weekly magazine VEJA. In 2021, he had an article published by Soundboard magazine (Vol. 46 No. 4) on the arranging procedures employed in the latter recording.
While a graduate student, João created "Guitar Horizons", a Juilliard Summer Grant Outreach project which focused on educating youth in underdeveloped areas of São Paulo, Brazil. His project inspired an ongoing partnership between The Juilliard School and Brazilian educational program Guri Santa Marcelina.
Kouyoumdjian also promotes many generations of the finest classical guitarists of his home country through his Spotify playlist "Brazilian Classical Guitar".
João Kouyoumdjian resides in the Greater New York City area and is on the faculty of Diller-Quaile, Lucy Moses and Newark School of the Arts. He is a Suzuki-trained instructor and his students have been admitted to leading US music programs on merit-based scholarships.
In 2020, João was awarded the Diller-Quaile Clifford/Levy Creativity Grant, enabling him to record his latest release, dedicated to Armenian music.